30. The ship of Theseus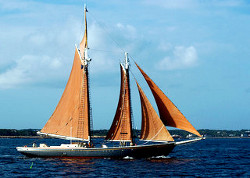 The esteemed mariner Theseus sets sail on a long voyage in a simple ship.
From time to time, some plank or other part of his ship gets a little worn and he replaces it with an identical part at the nearest port. At the end of his voyage, no part of his ship has been left unreplaced.
Unknown to Theseus, a scavenger has tailed him the whole way and has collected all the parts that were thrown away. From these parts, the scavenger reconstructs a whole ship comprising of all the original parts of Theseus's ship.
At the end of the voyage, which one is Theseus's ship?
This puzzle dates back to Plutarch in the first century A.D. The twist concerning the scavenger was added by Thomas Hobbes in the 17th century.