13. Either … or …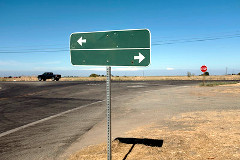 Logic students are often taught that 'Either
P
or
Q
' is an ambiguous phrase. It might mean to allow for the possibility of '
P
' and '
Q
' being both true. Or it might mean to exclude that possibility.
In his book,
The Connectives
(MIT Press 2011), however, Lloyd Humberstone contends that the "exclusive" reading is a myth:
A statement 'P or Q' is always negated by the corresponding 'Neither P nor Q.' If 'or' were sometimes, in virtue of its meaning, exclusive, then the latter would in those cases be true when both 'P' and 'Q' were true: but in fact, 'Neither P nor Q' always requires for its truth the falsity of 'P' and of 'Q.'
This is as close as one gets to a definitive refutation of the exclusive reading, he says. Be that as it may, can you diagram the argument?